Bismillah | Masha'Allah blue
171,00€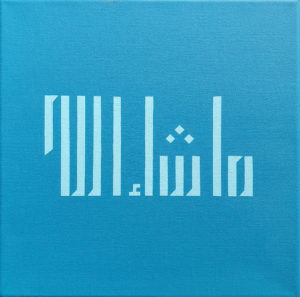 Bismillah, Masha'Allah diptic.
What a better way to begin the day or entering your home saying Bismillah or Masha'Allah.
This artwork has a purposeful minimalistic language, light blue on blue.
Simple as there words should be be on our tongues and simple in opposition to many Islamic artwork which are full in details and decorative elements. My intention is to give importance to the colours and to the words with a contemporary twist.
The technique is also peculiar because neatness needs more attention to the detail and how the brush moves around the canvas.
The price is for both paintings
Technique: Acrilic on canvas
Size: 30 cm x 30 cm